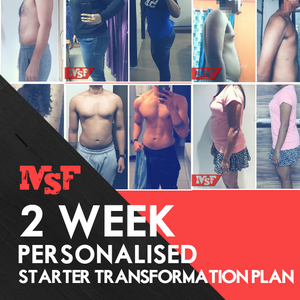 MSF starter Transformation Plan includes:
Personalised Diet Plan:

6 Day weekly diet plan for 2 weeks detailing the food items that you need to eat, along with quantities measured specifically for your body. It also includes tasty recipes for every single meal.
Vegetarian or Non-Vegetarian
Option to upgrade to a longer duration Transformation Plan 
Personalised Workout Plan:
2-week workout plan with detailed notes, sets, reps and rest period
Home or Gym based workout
Build muscle or cut fat, improve Stamina/Endurance or Increase Strength.
Complete Mobility Warm-up Guide
Complete Post Workout Stretching Guide
Option to upgrade to a longer duration Transformation Plan 

Note: This plan does not include MSF's World Class 24/7 email support or feedback-based updates. For continuous support and updates, upgrade to a longer duration MSF Plan. The fee paid towards the MSF Starter Plan will be adjusted against the price of the longer duration MSF Plan.
Once you purchase the 2 Week Personalised Starter Transformation Plan, I will send you the MSF Fitness Questionnaire on your email that will allow me to understand your current body condition, lifestyle, preferences, and goals. You will receive your plan for 2 weeks within 24 hours after you fill-up the MSF Fitness Questionnaire and reply back to me.